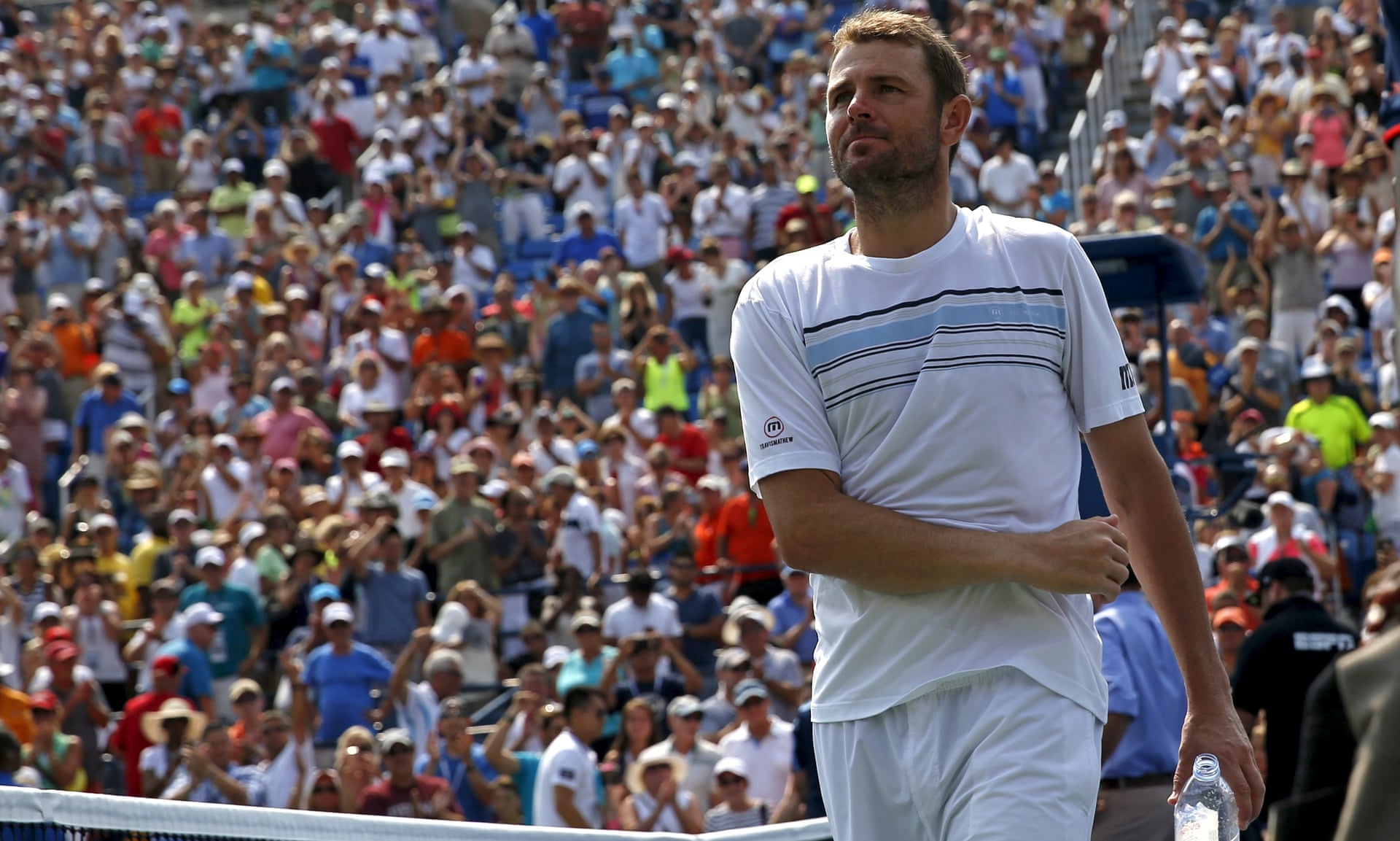 Mardy Fish said goodbye to professional tennis on Wednesday at the US Open, bringing to an end a career that contained plenty of highs but which, with the exception of a brave finale, was taken away from him just as it was really getting going.
For the record, Fish's last match was a 2-6, 6-3, 1-6, 7-5, 6-3 defeat by Spain's Feliciano Lopez, a battle that saw the American serve for the match in the fourth set and cramp badly in the dying stages. Given what he's been through over the past three years, it was never going to be a fairytale ending; but the fact that the 33-year-old even had an ending of his own choice was a huge success story in itself.
For the past three years, Fish has been suffering from a severe anxiety disorder that at its worst point, left him feeling unable to leave his house. Having vanished from the ATP Tour as he dealt with a condition that affects millions of Americans, at differing levels, every day, Fish even took up golf and was good enough to twice play in the US Open sectional qualifying event.
But he always wanted one last hurrah. Not in terms of results; he knew that was never going to happen. But he wanted to go out on his own terms, not be overrun by an illness that came out of the blue and cut him down in his prime. It took an enormous amount of hard work, medication and therapy to get him to this point and just being back on the court at Flushing Meadows, where demons mingled with golden memories, was a huge achievement. That he won a match was a minor miracle.
It's 11 years since Fish, with his big booming serve and text-book double-handed backhand won a silver medal at the Olympics in Athens. Hugely naturally talented, he's the first to admit he didn't work as hard as many others but in 2010 he changed his diet, his routine, his training and the hard work paid off. In 2011, he qualified for the season-ending ATP World Tour Finals and in 2012, he stood at a career-high ranking of seventh, just before the US Open, where it all came crashing down.
Fish's career was peaking. But his body and mind were not playing ball. In March that year, he began suffering from a heart condition that required surgery. Still, he seemed fine on court until that September at Flushing Meadows when, during a third-round match against Gilles Simon, he experienced an anxiety attack.
It has doubtless taken a lot of soul-searching to reach this point and an awful lot of help but perhaps the most remarkable thing about Fish is that he does not feel unlucky. If there was ever some "why me?" moments, then they've gone. He's content with his life in Los Angeles, with his wife and young son, and when he looks back on his career now, he is proud of what he has achieved.
"No, I don't feel unlucky in the broad scheme of it," he told the Guardian. "I've got an incredible family, I've been blessed to play a game for a living, and even more than that, I've been blessed to have the ability to play it and the ability to play two sports at the same time. There's not many people that are able to do that, so yeah, I feel very lucky.
To read the full article click here :
http://www.theguardian.com/sport/blog/2015/sep/02/mardy-fish-overcomes-anxiety-disorder-for-one-final-bow-at-the-us-open